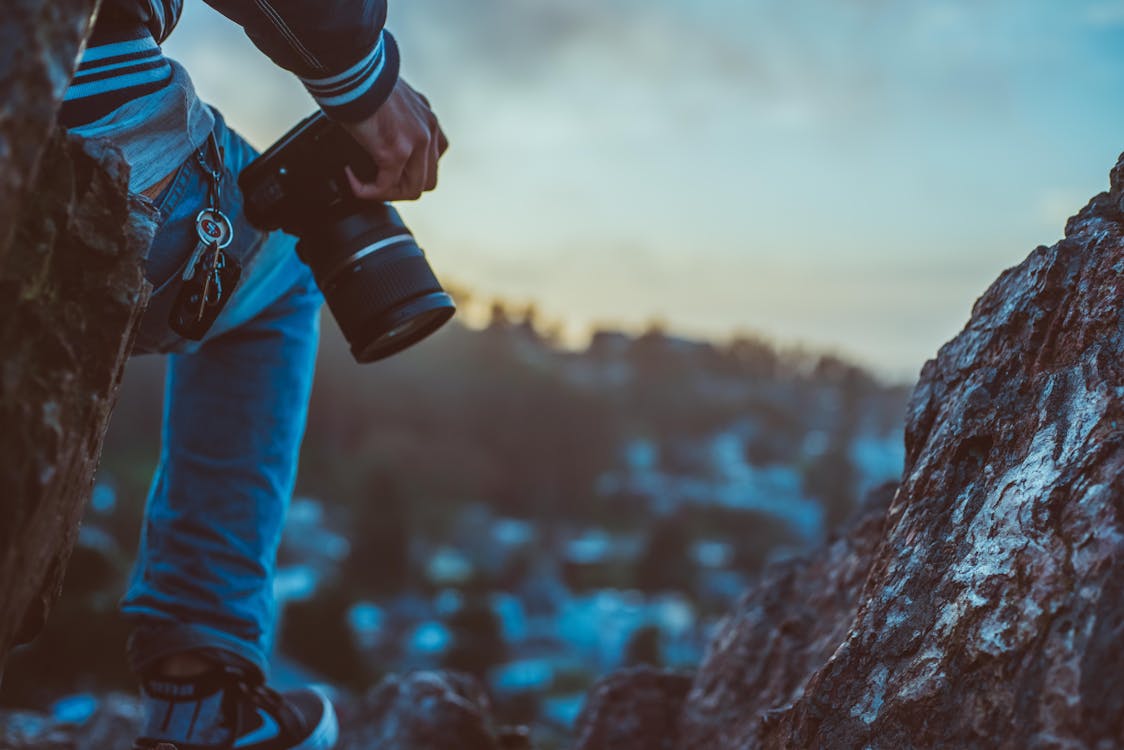 Whether you live in the UK already or you are planning a trip there, it can be easy and very tempting to go to London when you're looking for a day out or weekend away. But if you're after some fantastic views and some even better photos that are insta-perfect, then you need to expand your horizons to find some other #beautiful, #stunning, #wonderful, #romantic, and #lovely places to visit and photograph. From the country's impressive architecture in its cities to its quirky seaside villages along the coast and breathtaking, landscape views in National Parks, there is enough to keep the most avid photographer busy. Even better, while the weather can be very unpredictable, the luscious green landscapes still look beautiful on the dullest of days, the summer gives you the most awesome blue skies, autumn boasts the most gorgeous colours and winter and spring speak for themselves. You really can't go wrong.
Dunnottar Castle, Aberdeenshire, Scotland is one of the most historic tourist locations in the UK; the fortress is set on a cliff with the sea as a backdrop, it is a real photographer's dream.
Lulworth Cove, Dorset, England is one of the most famous landforms in the country; you can enjoy panoramic views and crystal-clear waters with a visit to this UNESCO World Heritage Site.
Llanddwyn Island (Ynys Llanddwyn) is described as a 'magical place'. It is an island in Anglesey, Wales which has an undoubtedly picturesque quality. Boasting rolling dunes, historic buildings and large rock outcrops, Llanddwyn Island is perfect for exploration and definitely a place to take your camera!
The Cliffs Of Dover, Kent, England is one of the most spectacular sights in the UK, the White Cliffs of Dover make for an incredible walk. On a clear day, you can even see France.
Chester Zoo, Chester, England is home to over 21,000 endangered and exotic animals, the most visited zoo in the UK also makes the list of the most beautiful places.
Chatsworth House, Derbyshire, England is home to the Duke and Duchess of Devonshire and set in the spectacular countryside, Chatsworth House have over 120 rooms, including regal staterooms and galleries.
Loch Ness, Highlands, Scotland is home to the legendary Loch Ness Monster, and while you might not catch a glimpse of him, the shores and boat tours are enough to draw you to this stunning Scottish spot.
Bath is a bustling town centre with rolling hills and sandstone facades which are sure to create stunning photographs- even for amateur photographers! As it is now a recognised World Heritage Site, the beauty of Bath has also been hand-picked to be preserved for many generations, meaning that it is the perfect place for traditional photography!
Snowdonia, Gwynedd, Wales is best known for hiking, but there's also an old steam railway that will show you the breathtaking sites of Snowdonia National Park.
Blenheim Palace, Oxfordshire, England is home to the 12th Duke, and Duchess of Marlborough, this World Heritage Site was the birthplace of Sir Winston Churchill.
Stonehenge, Wiltshire, England is the most famous prehistoric monument in Europe, this wonder of the world is a must-see outside of London.
Arthur's Seat, Edinburgh, Scotland is an extinct volcano, which sits 251 metres above sea level, makes for an incredible hike, offering a reward of stunning views over Edinburgh.
Eilean Donan Castle, Highland, Scotland is another stunning Scottish scene, which lies at the junction of three impressive lochs in the wilds of Scotland.
The Highland Titles Nature Reserve, also in Scotland is well worth a trip for its beauty alone. Check out this review of the Highland Titles Nature Reserve to find out all you need to know.
Durdle Door, Dorset, England may not be the most popular place, but you have probably seen photos of this beautiful stone arch, set above a beach and perfect for a summer day.
Giant's Causeway, County Antrim, Northern Ireland lets you step back in time with this often-photographed landmark, which is Northern Ireland's first UNESCO Heritage Site.
Edinburgh Castle, Edinburgh, Scotland may sit right in the middle of the city, but Edinburgh Castle, home to the Scottish Crown Jewels, is still gorgeous and offers a perfect view of the surrounding area.
Cleethorpes Beach, Lincolnshire, England is a trendy beautiful spot in the UK according to Instagram, and somewhere you want to capture.
Now if this isn't a good bucket list to get your visiting the most beautiful places in the UK then what is?